How do I view Class Results?
Teachers can use the "Class Results" tab in their Teacher Grade Book to see a complete list of everything that students have been working on. They'll be able to access detailed score reports and see the questions that were answered. They can see this information for all assessments, assignments, and independent work completed in the "Study Plan".
Go to the Teacher Grade Book. There are two ways to access the Grade Book:
Option 1:

This is the easiest and most direct method!

On your main Teacher Dashboard, click on the "Grade Book" icon next to the class that you want to look at.

Option 2:

The grade book can also be accessed through the "Reports" menu. This is also the method an Admin would use to view a teacher's grade book.

Note: Teachers do not have the ability to see other teachers' grade books. They can only view their own grade book.

Click on the "Reports" icon in the side navigation menu.
Click on the "Gradebook" box.
Select a class in the drop-down menu.
Click "Run Report"
From this point on, the steps are the same:
Click on the "Class Results" tab, select any desired filters, and click "Run Report".
Tip: This Class Results list is exportable to Excel.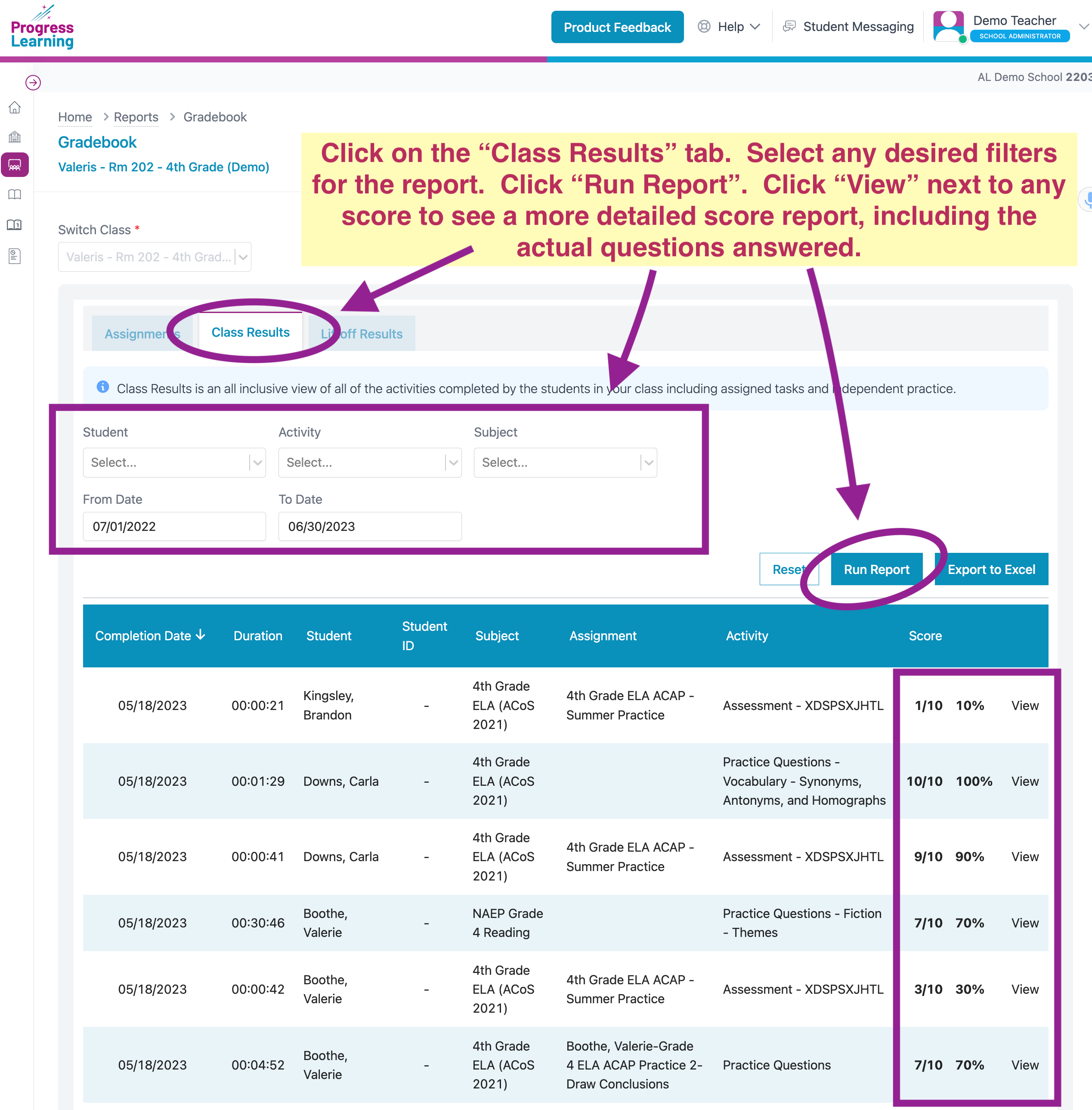 If the "Assignment" column is blank, this means that this was an unassigned activity that the students worked on independently in their Study Plan. You can use the filter options to see a Class Results list for a specific student or a list of specific activities.
Next to the "Score" column, you can click on "View" to see a student's detailed score report. The students also have access to the same score report in their "Graded Work". You can see their score and if you scroll down, you can see the actual questions answered and the student's responses.

---
---