How do I Create an Assignment?
Here are the steps to create an assignment within the teacher dashboard, under the Assessment/Assignment Center.
Log in to your Progress Learning teacher dashboard at app.progresslearning.com/login. Click "Assessment/Assignment Center" in the menu bar on the left-hand side of your dashboard.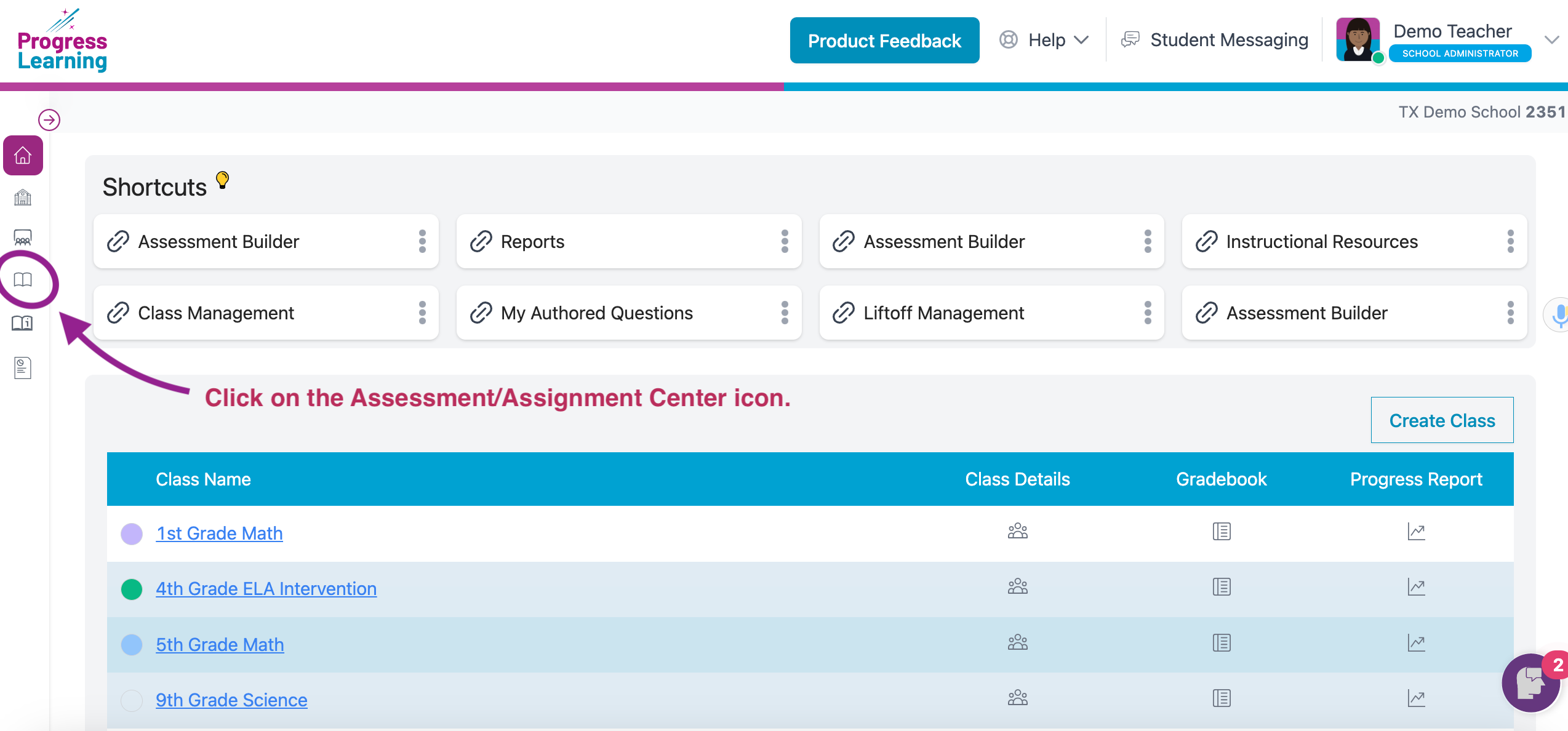 Click on the "Assignment Builder" in the "Assign" box.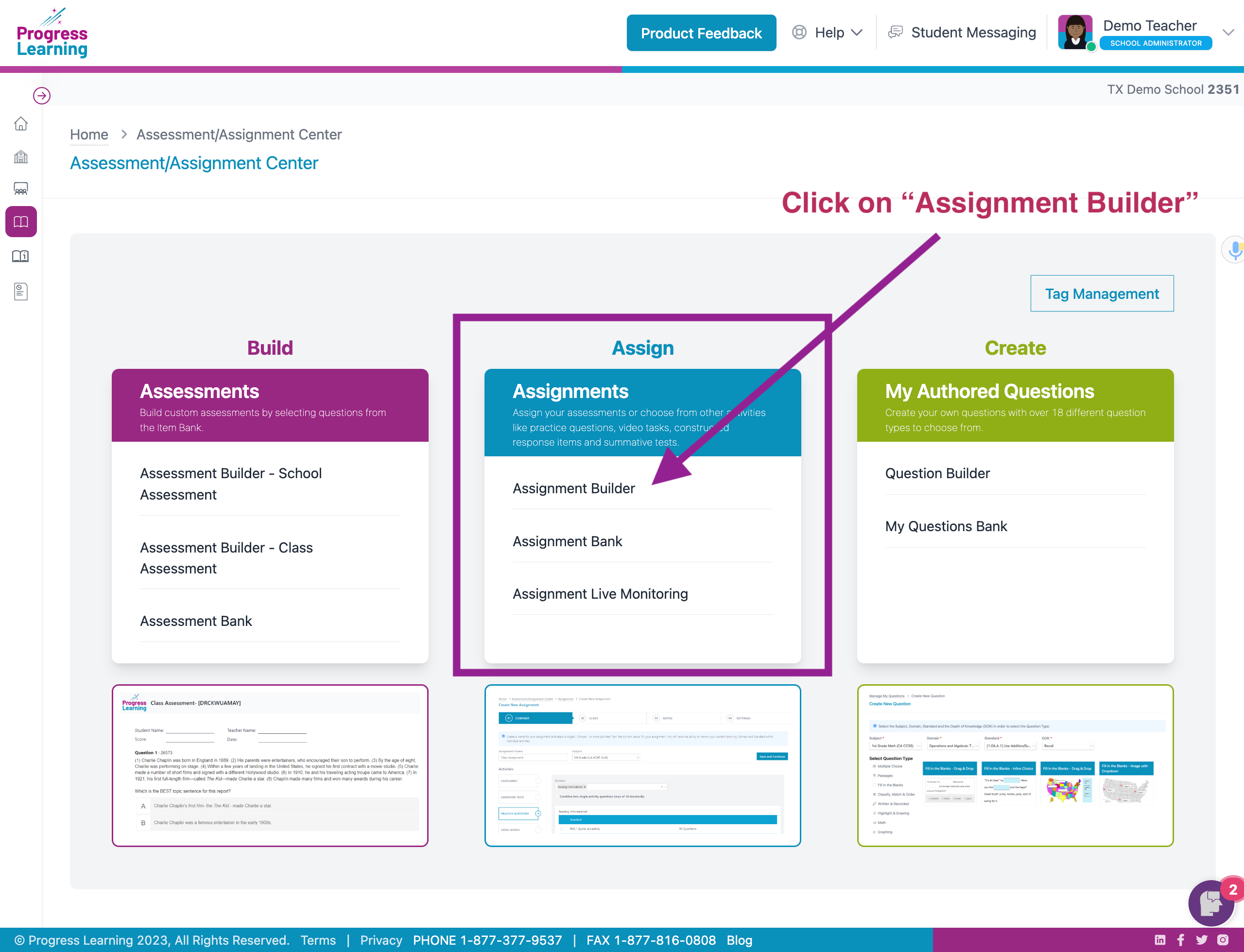 On the "Content" tab, you will begin by giving your assignment a name and selecting a grade level and subject area.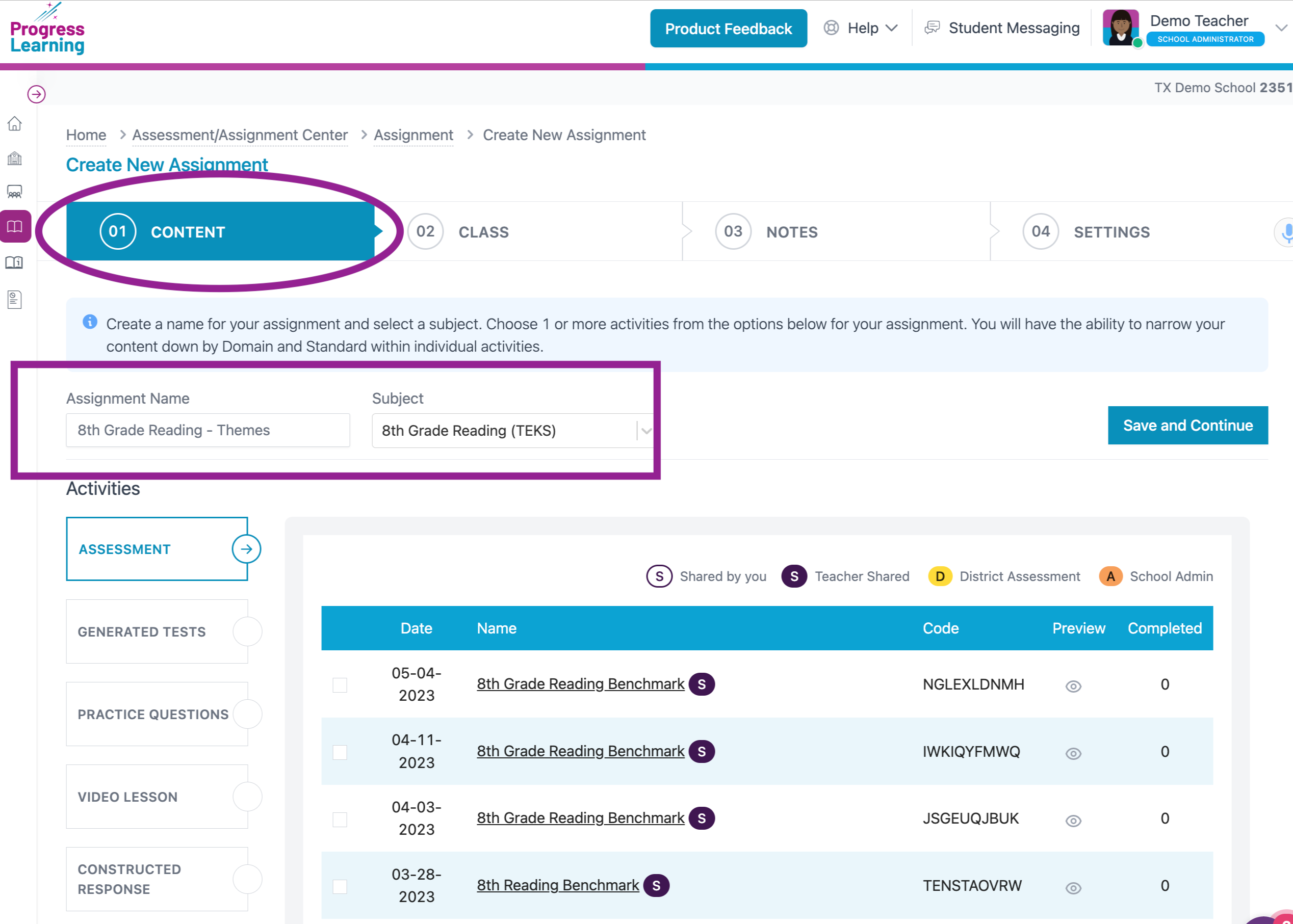 Now, you will build your assignment by selecting components from the following options: Assessment, Generated Tests, Practice Questions, Video Lesson, or Constructed Response. Each component is optional and you can include multiple components in a single assignment.
Option 1 - Assessments: If you select the "Assessment" option, this will pull a list of your previously created Assessments to assign. To learn how to create an Assessment, click here.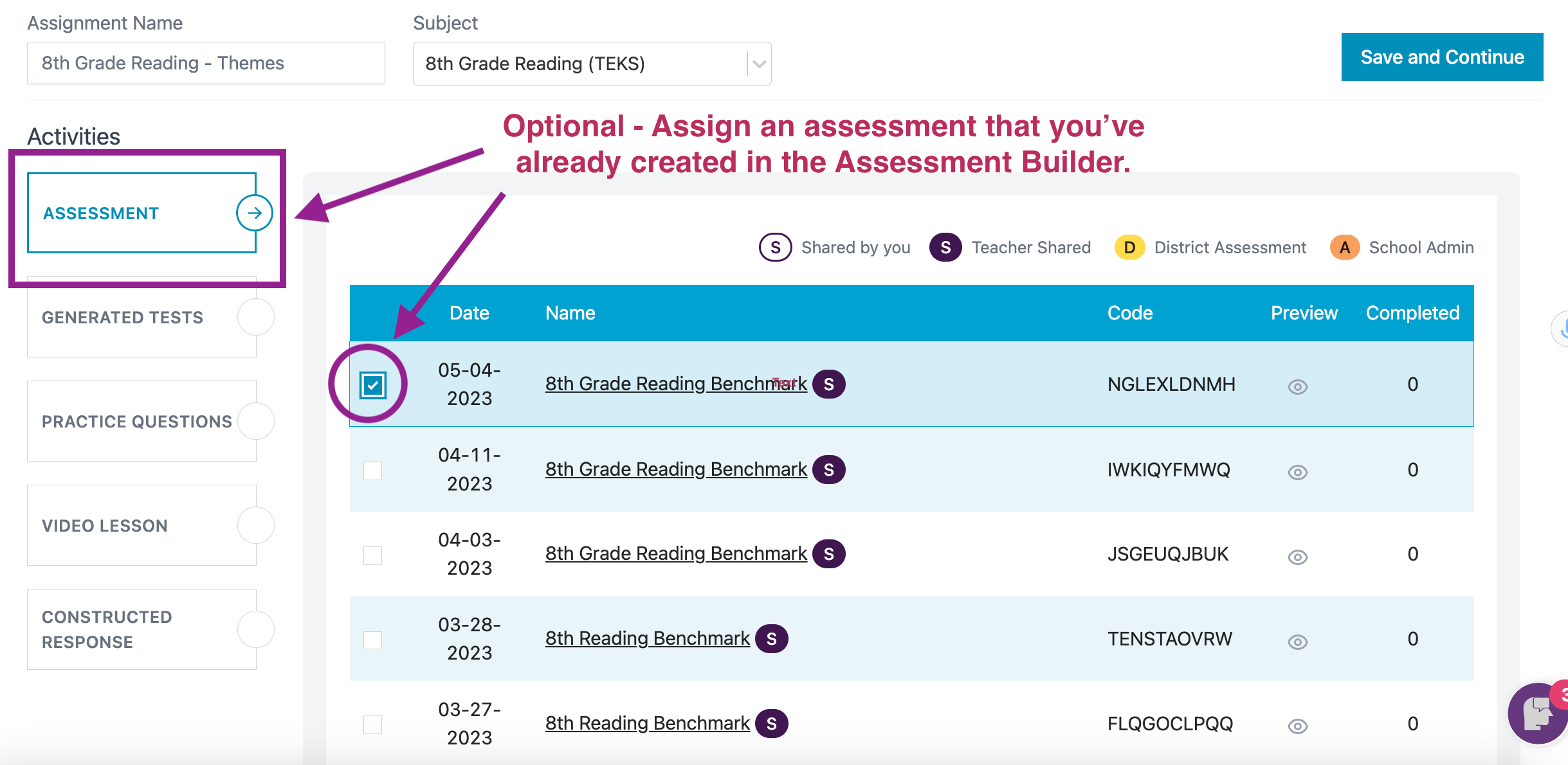 Option 2 - Generated Tests: This option allows you to include auto-generated tests. You can include a small, medium, or large summative test and/or a test that only covers a specific domain.
The auto-generated tests have randomly selected questions. Teachers cannot choose specific questions with this option. If teachers want the ability to choose their own questions or see the questions before assigning them to students, we recommend that teachers build their own assessments in the Assessment Builder instead.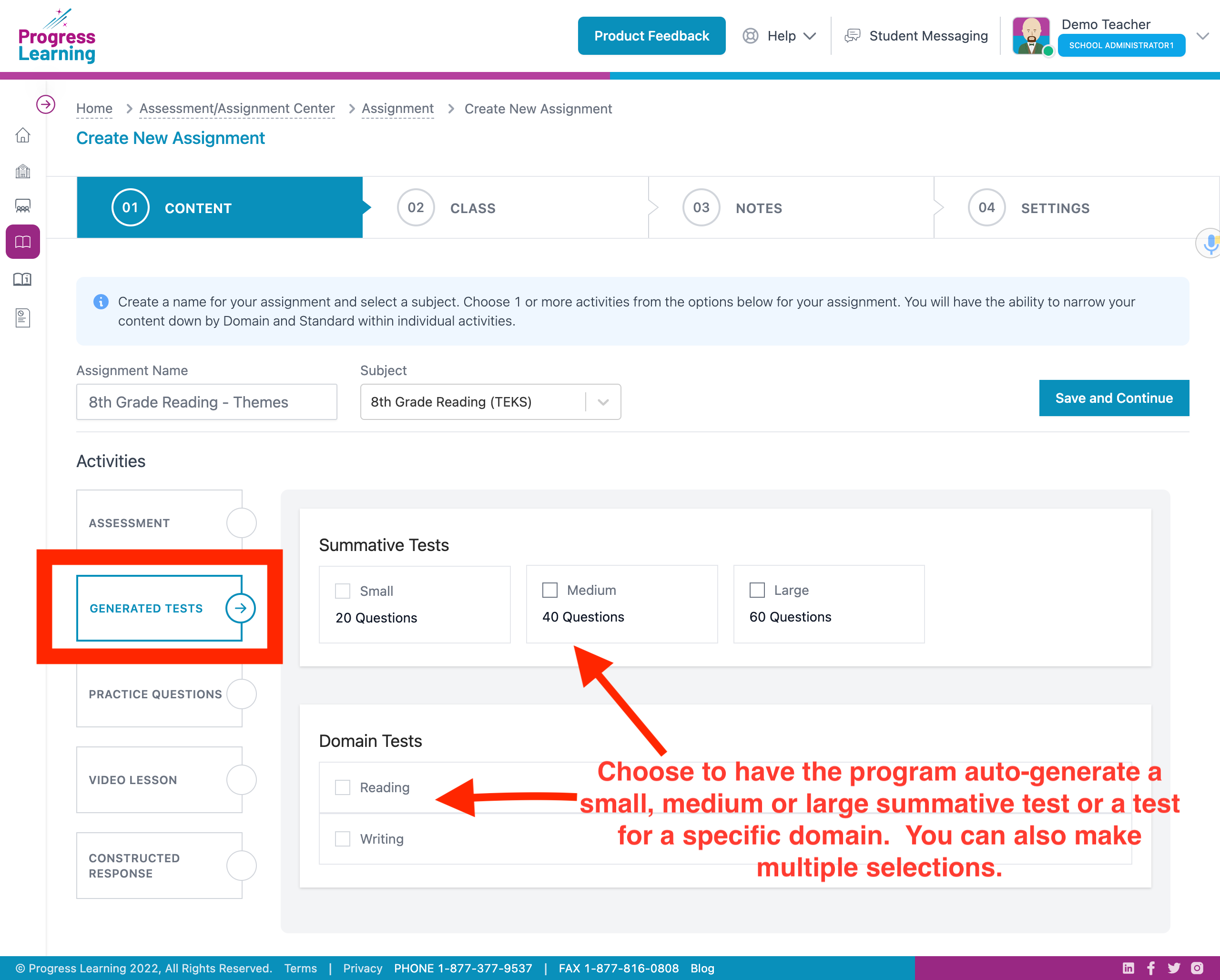 Option 3 - Practice Questions: If you opt to assign "Practice Questions," you will pick either one or multiple domains. You can then select the standard(s) you want to be assigned.

The Practice Questions are also auto-generated. The students will get 10 randomly selected practice questions for each standard that is chosen or teachers can opt to have the standards combined into a single 10-question activity.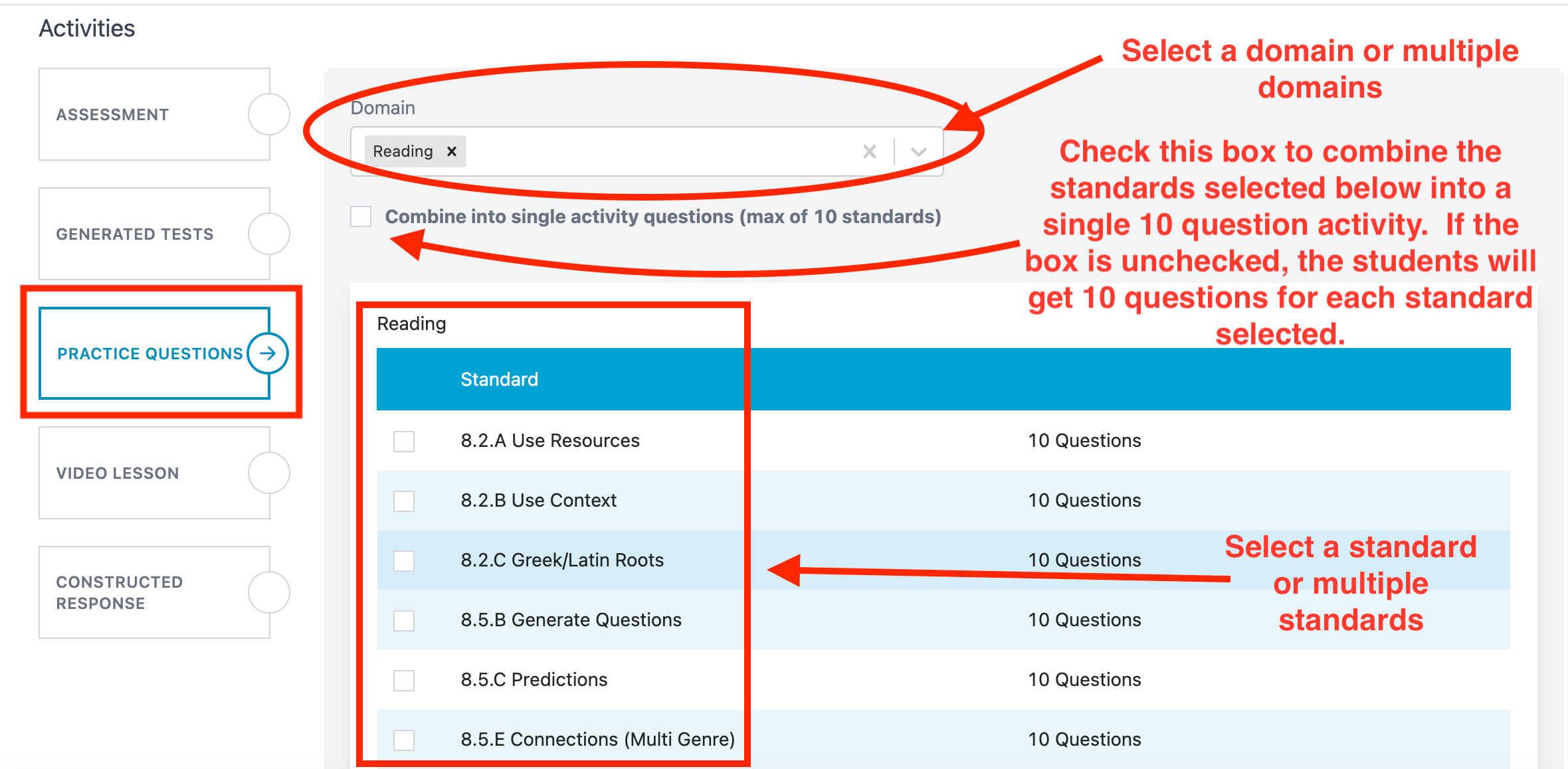 Option 4 - Video Lessons: You can select one or more of our instructional videos to include in your assignment. You can search for videos by domain and standard.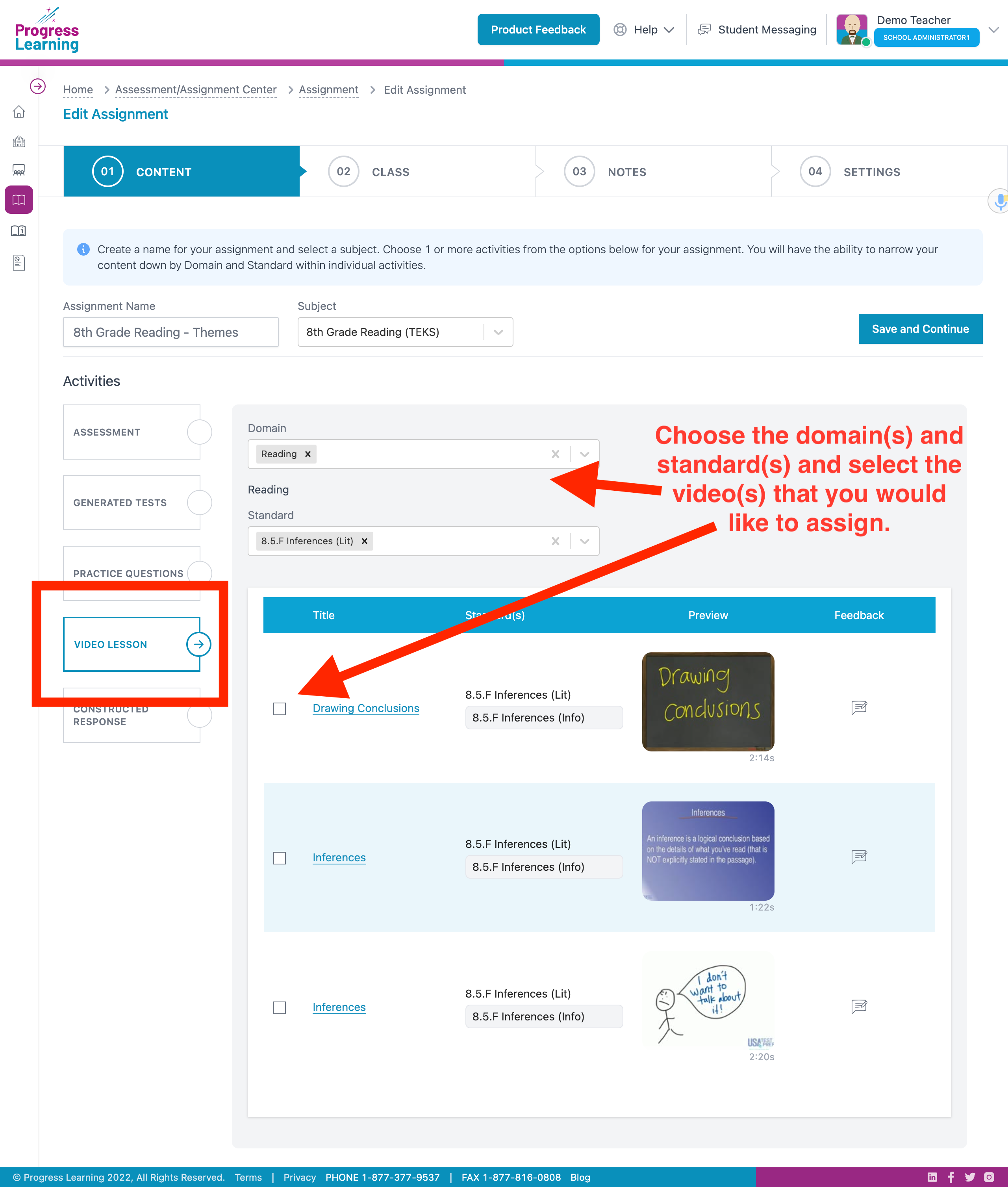 Option 5 - Constructed Response: You can opt to add one or more constructed response questions to your assignment. You can search for constructed response questions by domain and standard. You can also choose to see a list of questions that you have authored.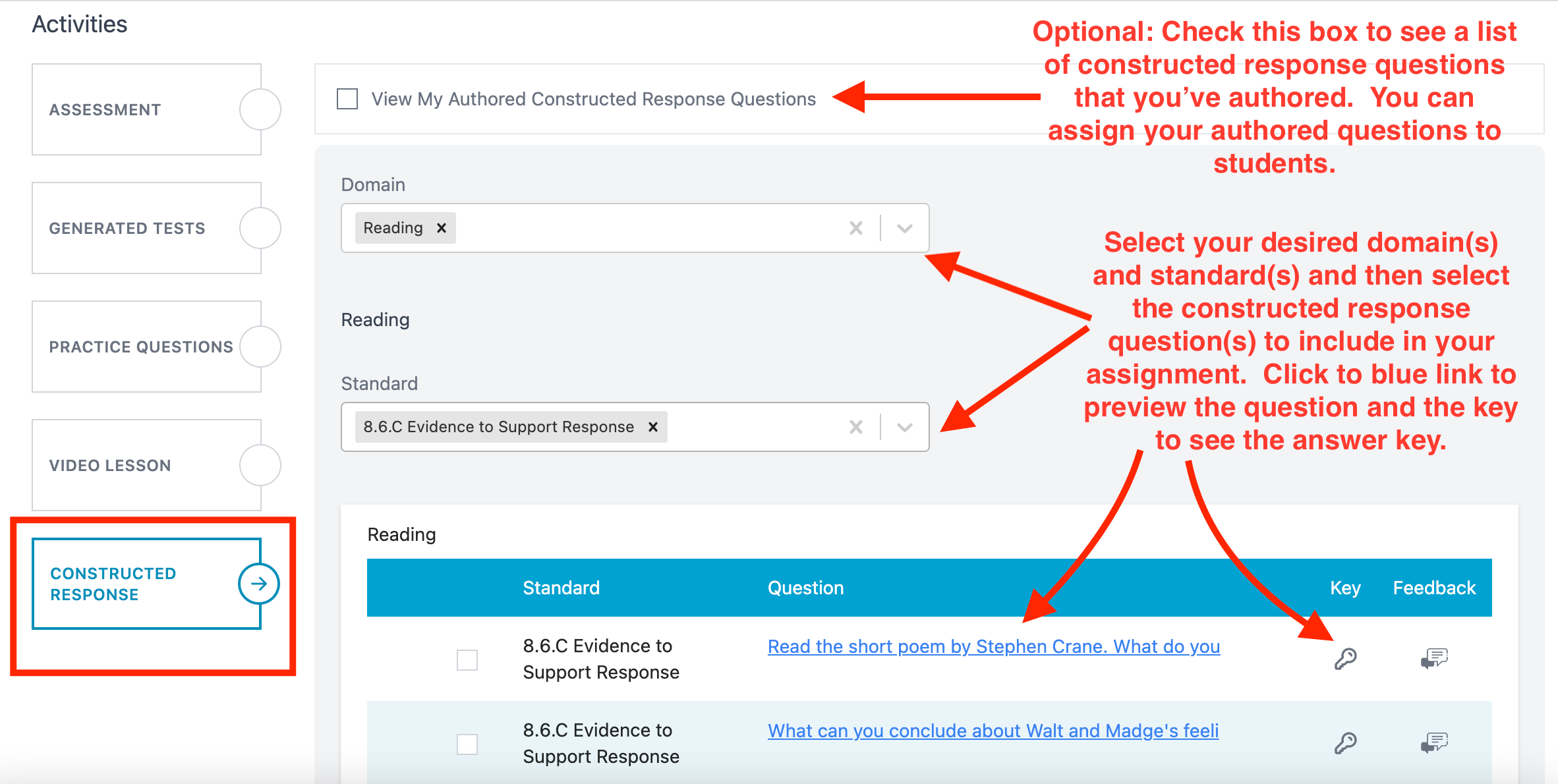 You can go back and make changes to any of these optional selections by clicking on the appropriate tab(s).
When you have made all of your selections, scroll to the top of the page and click "Save and Continue".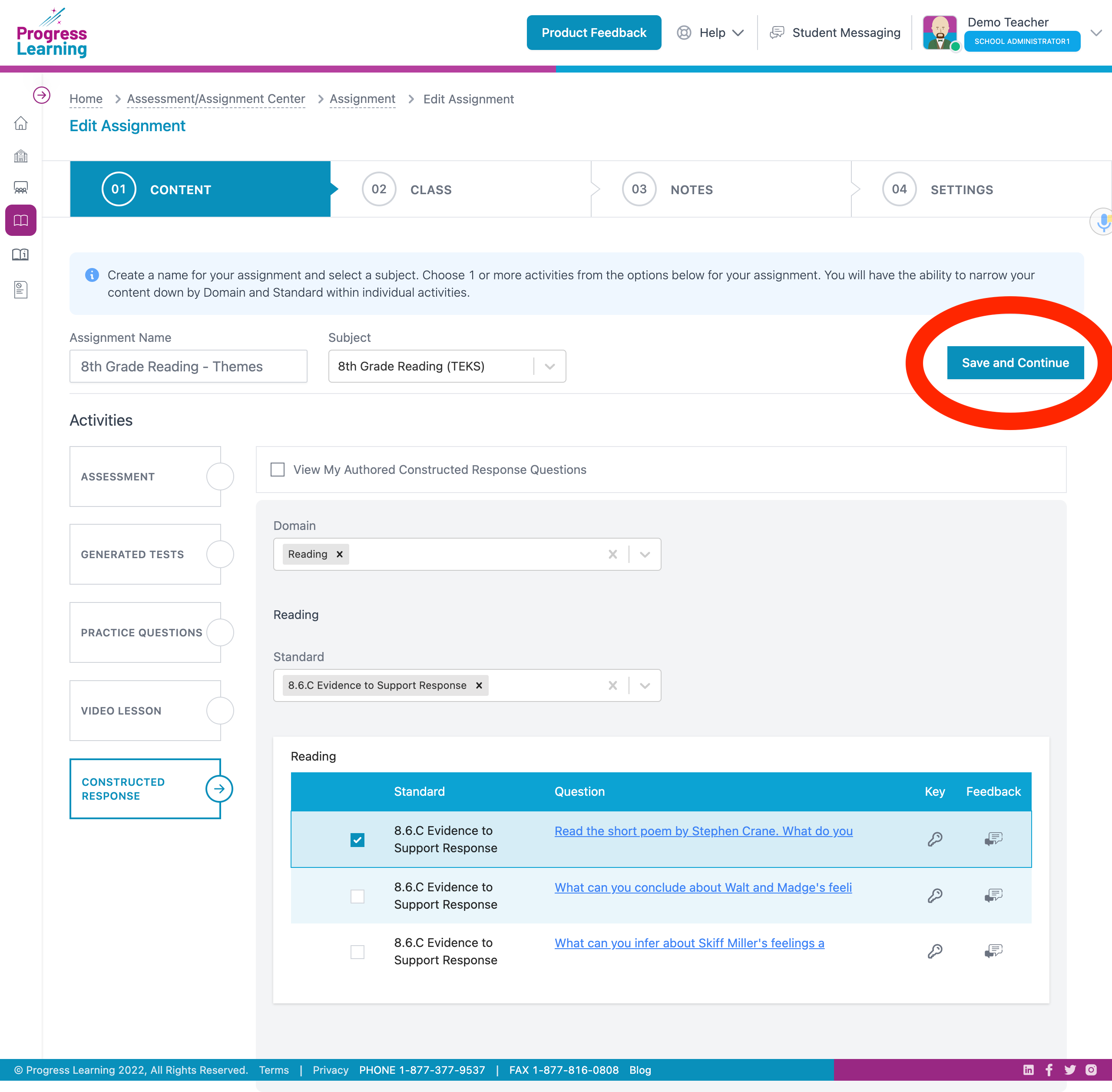 Select the class(es) and/or individual students that will get this assignment. You also have the option to save the assignment without selecting a class at this time. You can also choose to give the accommodation of reduced answer choices to the students that need it on this screen. Be sure to scroll up and click "Save and Continue" to save your selections.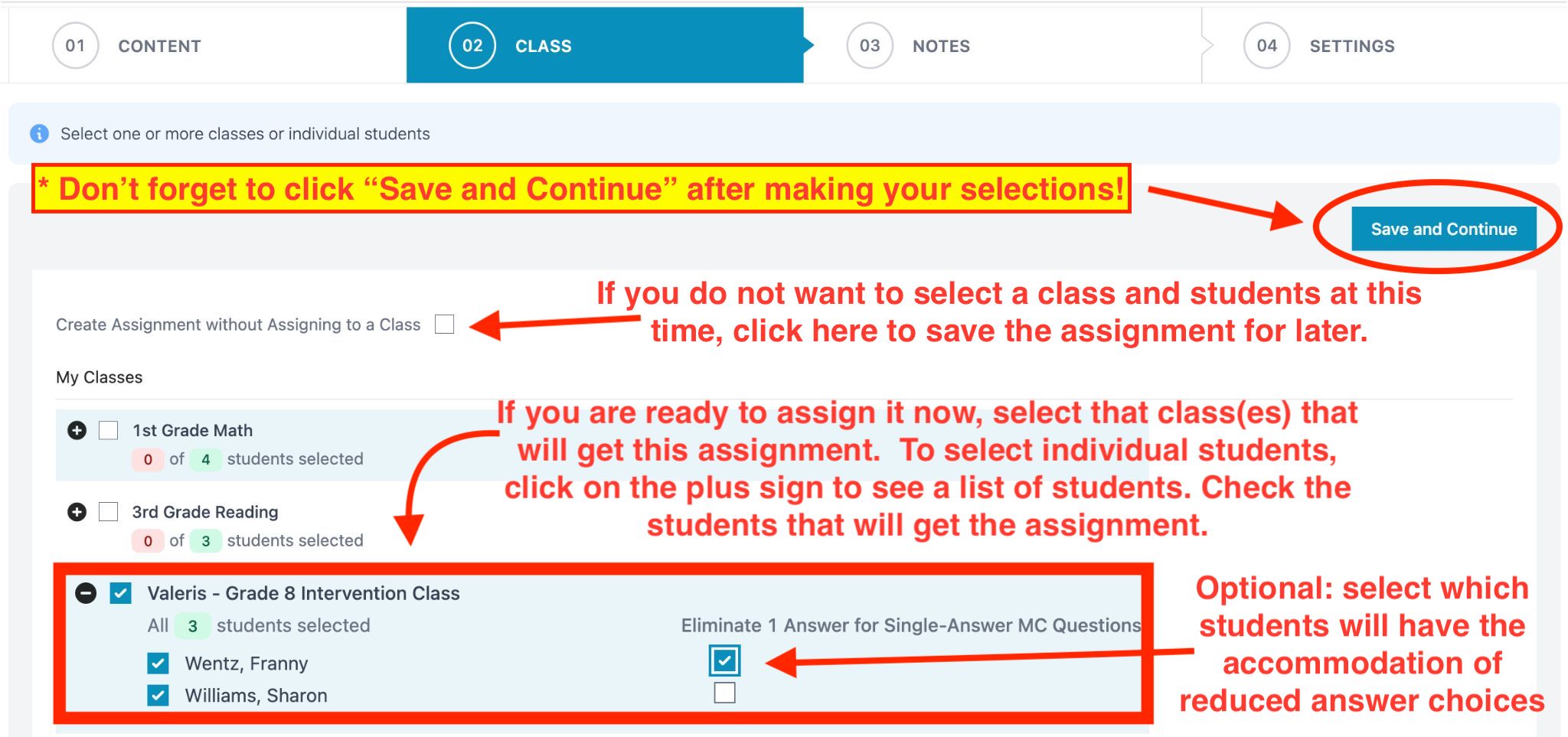 On the "Notes" tab, you have the option to have a text or video pop-up note appear on the student's screen before they begin the assignment. If you'd like to leave a text note, select "text note" and type your message. If you'd like to record a short video message, select "video note" and record your video. Then, click "Save and Continue".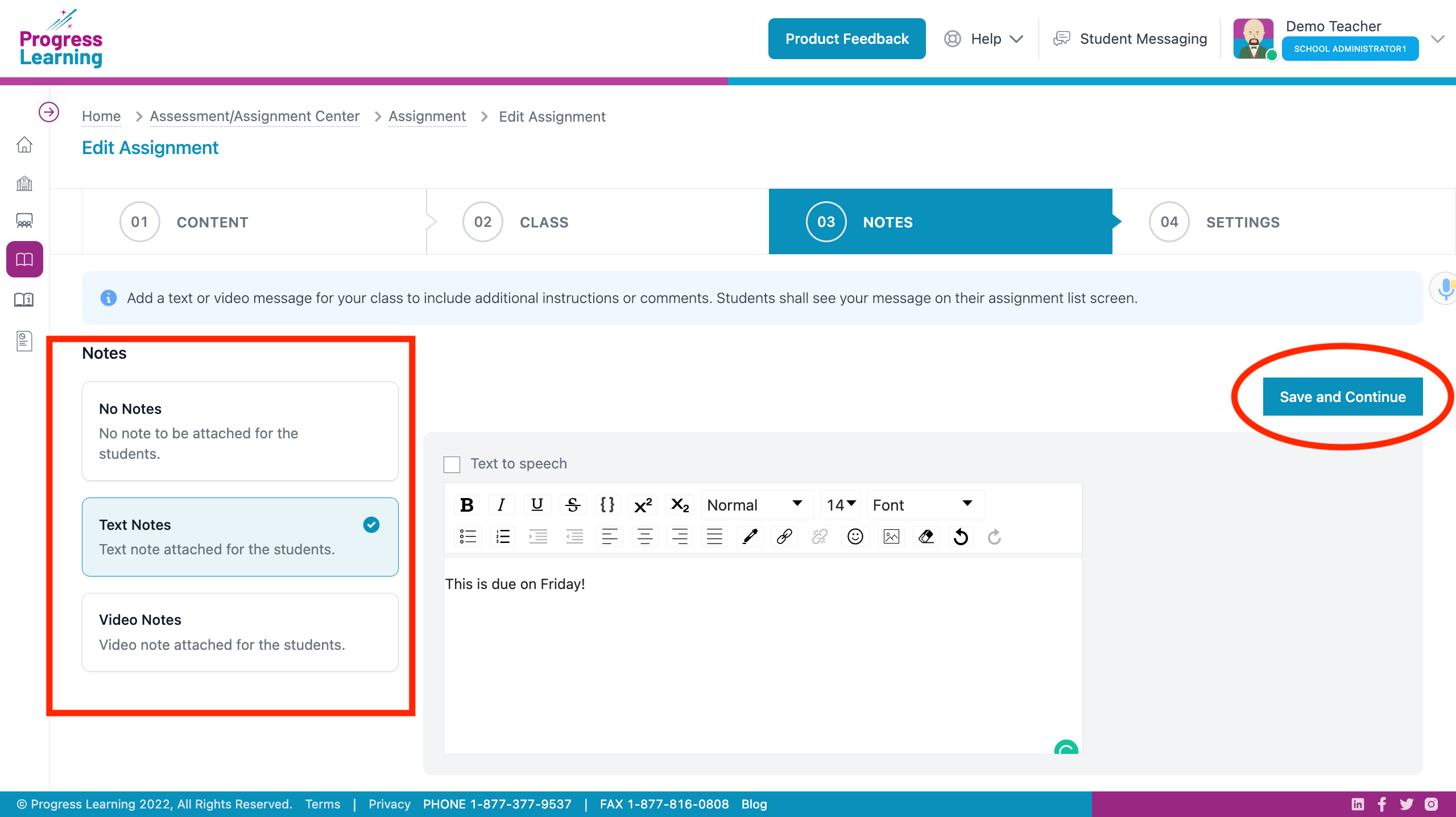 On the "Settings" tab, select a due date and a start date for your assignment. Students will not be able to see or begin work on the assignment until the start date. They can continue to work on it for 60 days past the due date, but it will show as pink (past due) on their screens. The results for assignments completed after the due date will also show as pink (past due) in your teacher grade book.
To share the assignment with other teachers, click the "add to school bank" button.
To add the assignment to Google Classroom or Canvas, click on the "Google Classroom" or "Canvas" buttons.
Click
here
for more information about syncing assignments to Google Classroom. Click
here
for more information about syncing assignments to Canvas.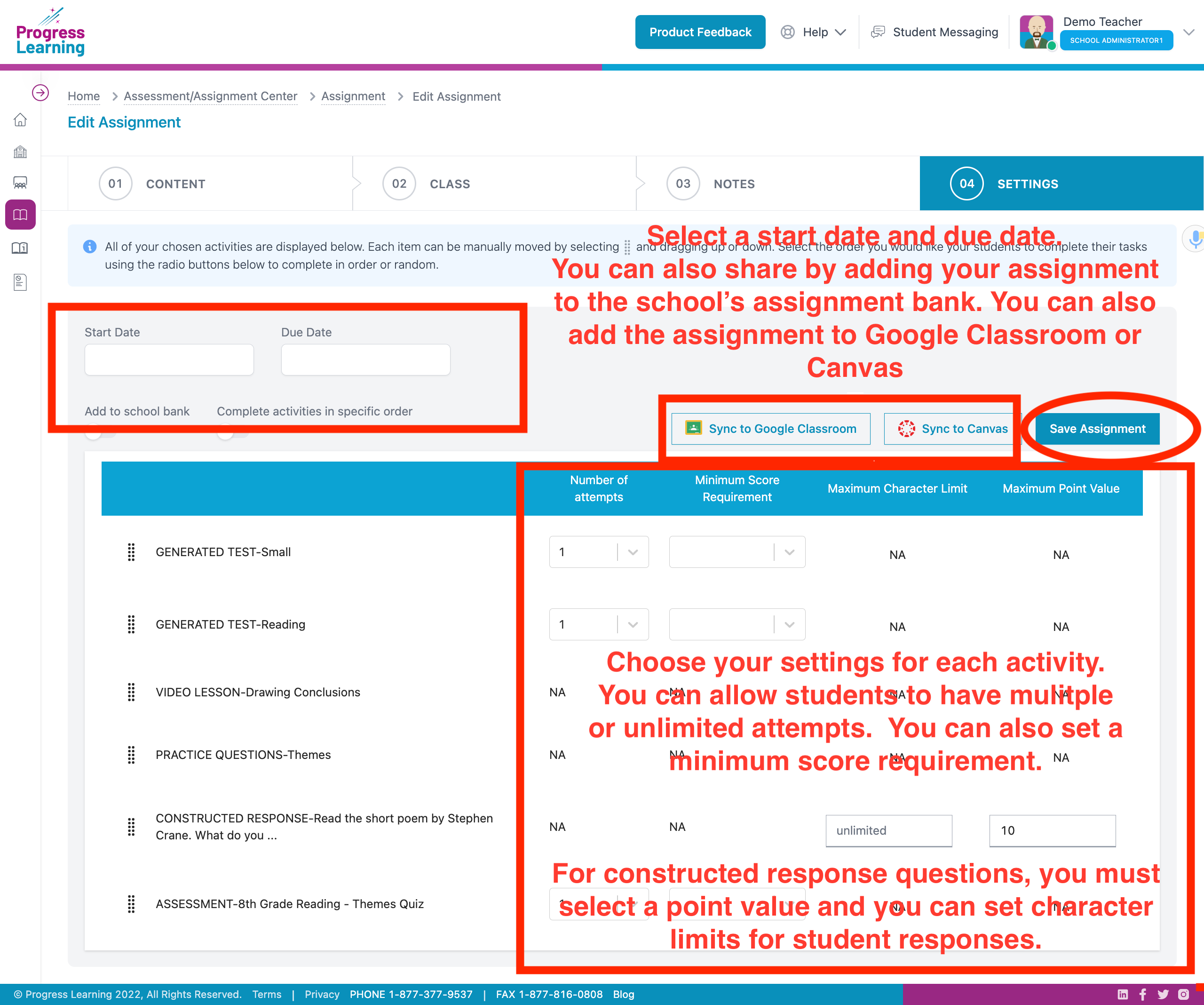 You change the order of the activities by dragging and dropping to move them up or down. You can also choose to let the students work in any order or work in a set order that you've selected.
You can choose the settings for the individual activities in the assignment. You can choose to allow students to have multiple or unlimited attempts. You can also set a minimum score requirement. For constructed response questions, you must assign a point value, and you can choose to set a character limit for student responses.
Be sure to click "Save Assignment" to save your assignment.
---
---