Admin Steps for NWEA Mapping
After your District NWEA Admin adds Progress Learning as a data partner. Click
here
to learn more.
A campus admin will need to follow the steps below. 
Step 1: Log in to a school administrator account.
Step 2: Click on "School Center" and select "NWEA Mapping."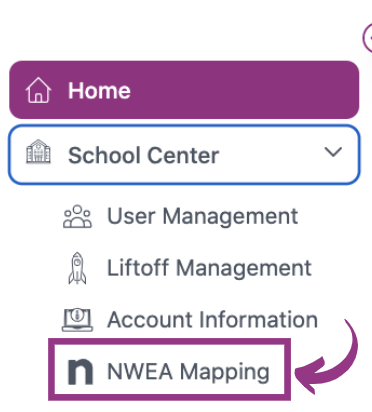 Step 3: Select a grade level and click the "Start Mapping" button.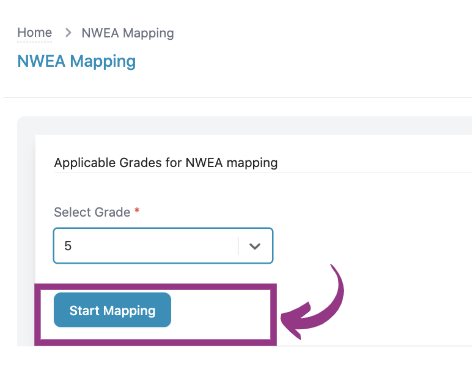 You will need to follow these steps for each grade level.
Step 4: The Mapped Students will appear in the top box; scroll down to the bottom to see if any students are still in the Unmapped Students box.
Step 5: If all students are in the Mapped Students box, the process is complete. You will then repeat these steps for all grade levels that take the MAP test.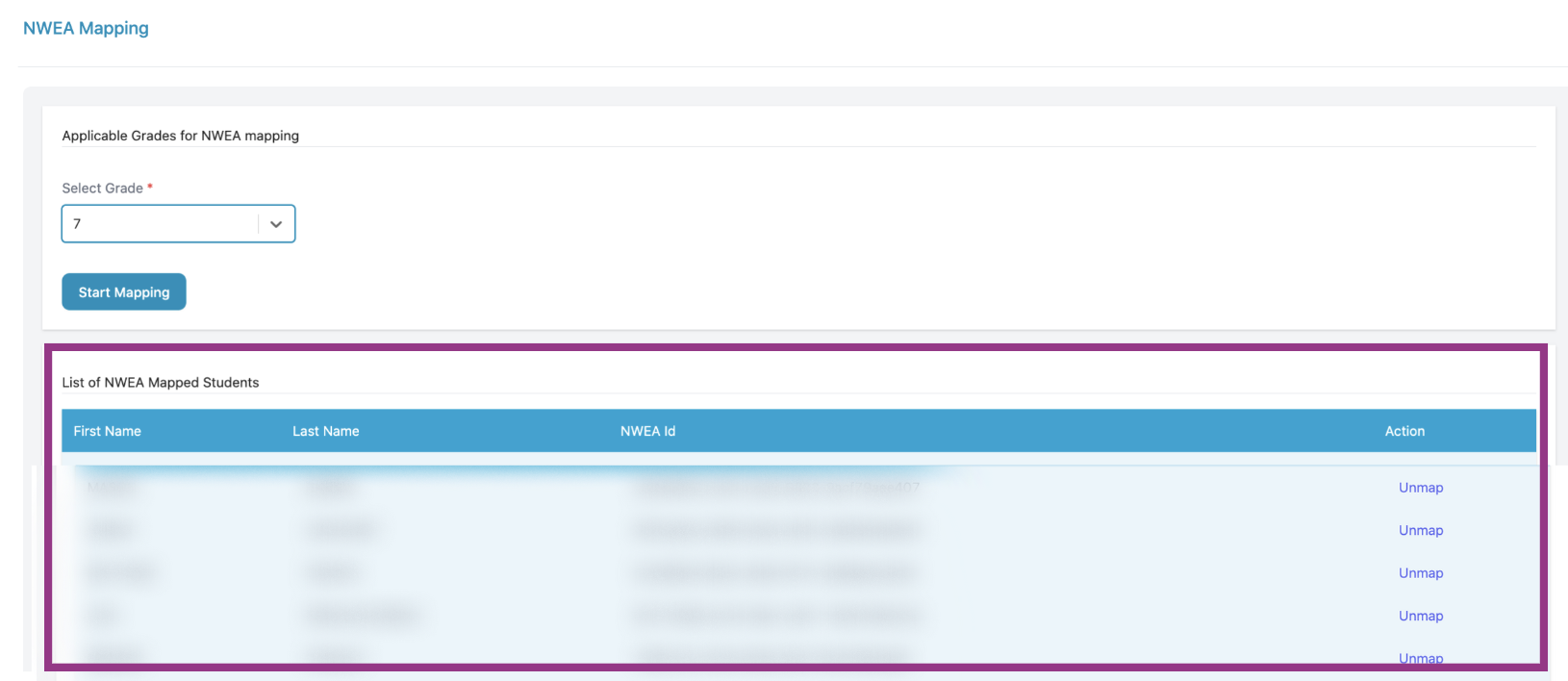 Step 6: If students are in the Unmapped box, follow the steps below to complete the process.

Note: Students may not map for various reasons; for example, they have multiple first or last names listed, they may not have taken their MAP test yet, or there are multiple students with the same name and the system didn't know which student to put the data with, etc.

An administrator must help with the unmapped students Progress Learning does not have access to student information to know where to match results and students.
If students are in the Unmapped Student box:
Step 1: Click "Map" next to the student name and a search box will pop-up.
Step 2: Clear either the first or last name and click "Search."
*Leaving the more specific name usually works best to help narrow down the correct student.
Step 3: Then click the "Map" button next to the correct student to link the MAP data.
Step 4: The student should now be moved into the Mapped Students box.
Step 5: Repeat these steps for all unmapped students who have completed the MAP test.
A teacher or campus admin MUST enable Liftoff for students. Click
here
to learn more.
Troubleshooting: If diagnostics say "NWEA Enabled" and their rockets in "My Galaxies" have not been placed on a path, students can click on the yellow "NWEA Sync" button to manually sync their NWEA MAP scores to Liftoff. This will only need to be done one time and only if the scores did not automatically come over in the data sync.
We are working on an enhancement to move this manual sync button from the student interface to the teacher/admin interface. 
Current functionality (soon to be changing):
When admins "map" students, they are only name-matching the student names associated with the school account and the student names we are receiving from NWEA. Scores are not syncing during the name-matching step. (This is changing in a future release.)
After name-matching occurs, students need to click the sync button from their Liftoff dashboard to place rockets (this is changing during a future release).
Reasons a student's scores may not have synced before September 30th

There was an error that prevented student's rockets from being placed after clicking the sync button;

if they scored above their grade level; or
if they scored below a 3rd grade on the 6+ Math tests; or
scores would not sync for the Data Analysis instructional area

All issues were resolved as of September 30th. Students should click "sync" one more time to resolve any of those 3 issues. Note Admins should NOT attempt to correct these issues by clicking unmap from their UI

Reasons a student's scores may not have synced after September 30th

They have not been mapped;
They do not have scores from NWEA for Math and/or Reading

In this event, the in-house diagnostics will be available for the students to take for 1 or both subjects
---
---